Creating VoiceThread Assignments in Canvas
Build your VoiceThread Assignment using Canvas and the steps below to ensure that when you grade the VoiceThread assignment, the grade is then passed automatically to your Gradebook.
Instructions
Go to the Modules page click on the plus (+) sign to add assignment.
Select Add Assignment.
Click on Create Assignment.
Add an Assignment Name.
Click Add Item to add the assignment at the bottom of the current module.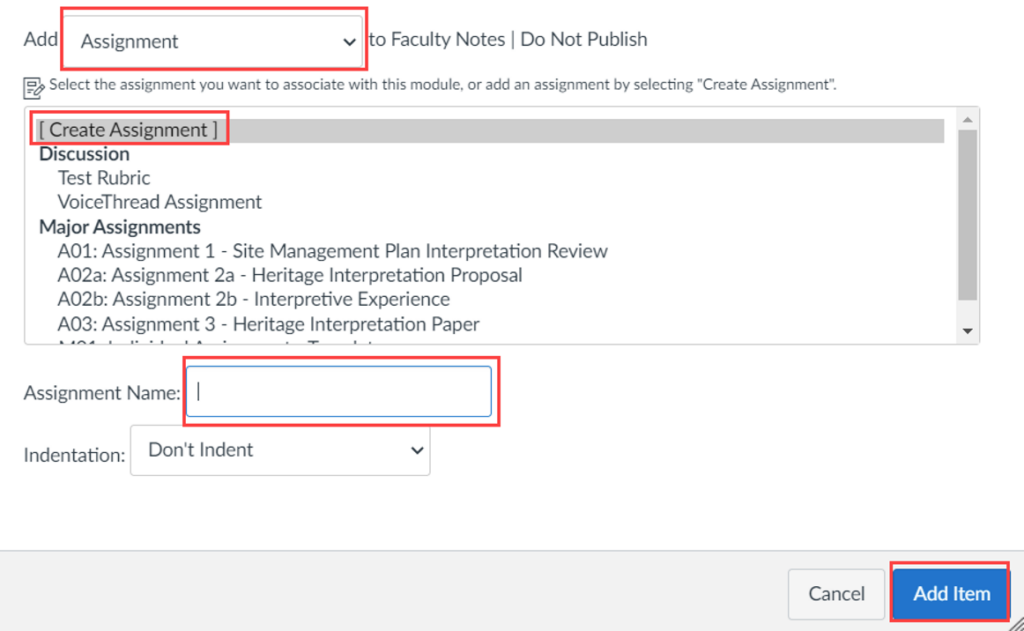 Click on the Assignment to launch the Assignment Page.
Click Edit and copy the Student VoiceThread instructions below into the Assignment area.

VoiceThread Introduction:
Use this link for an introduction to VoiceThread basics: https://voicethread.com/howto/
To submit your VoiceThread introduction:

Scroll down and click on the link Load [title of VoiceThread assignment] in a new window. The application will open in a new window.
Select Start Assignment
Follow the prompts to add your slide and record your audio
Select Submit

To view your classmates' submissions when you are not presenting:

Scroll down and click on the Load [title of VoiceThread assignment] in a new window. The application will open in a new window.
Select Start Assignment
Select Student Gallery
View each presentation
Post your feedback

Use the links below for instructions on how to:

Update Points, Assignment Group, and ensure Display Grade as is Points.

Move down to Submission Type and change selection to External Tool, put a checkmark in Load this Tool in a New Tab, and then click on Find.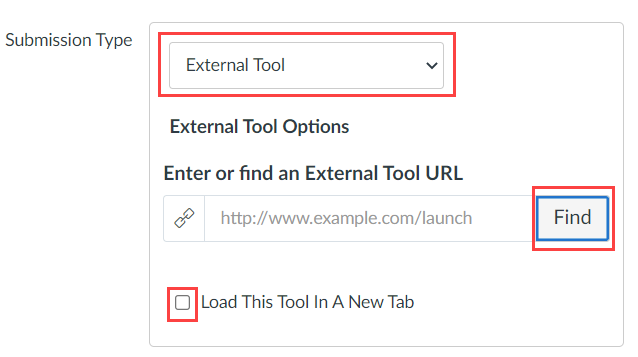 A Configure External Tool window will open. Move down and click on VoiceThread.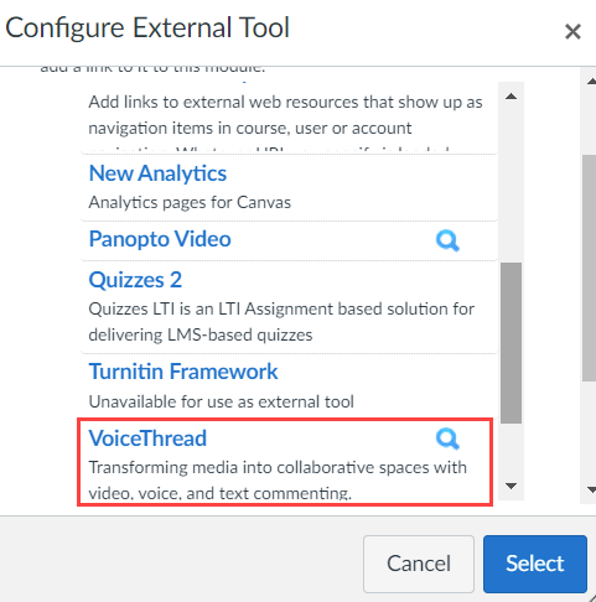 The VoiceThread window will open. Select Assignment Builder.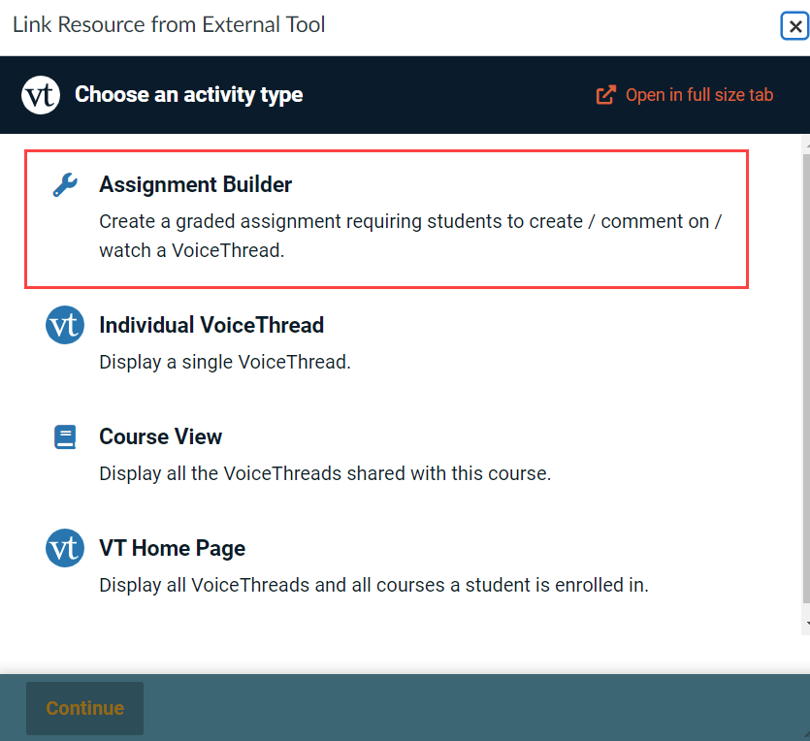 The Assignment Builder Window will open. Click on Create and add all the elements for the assignment. See next step for the Assessment Settings to apply before publishing.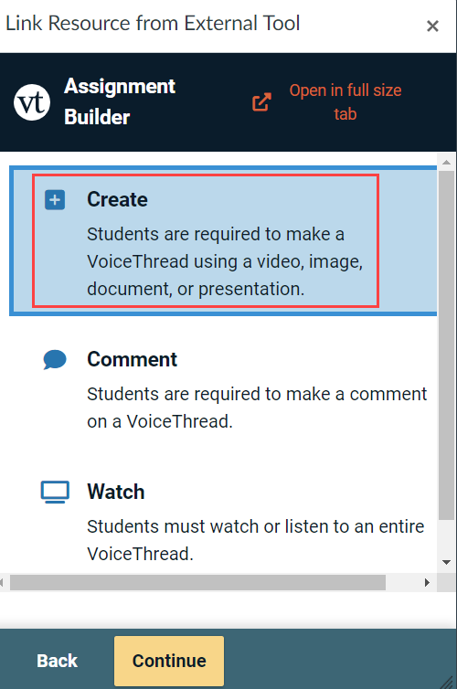 Before Publishing the assignment, Change the Assessment options to Points and then enter the total number of points possible (the points should match Step 3 above). This step allows the VoiceThread grade to pass back to the Gradebook. Instructors will need to grade in VoiceThread, but they will not have to manually add the Grade to Canvas. As a note, VoiceThread submissions will not show in SpeedGrader.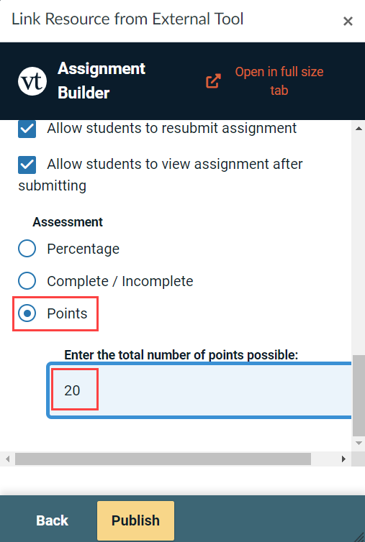 Click on Publish. The window will close and return to the Configure External Tool Window. If you see a URL in the window, your assignment has been created. Click on Select to add the VoiceThread Assignment to the Assignment Page (you will not be able to see the VoiceThread Assignment yet).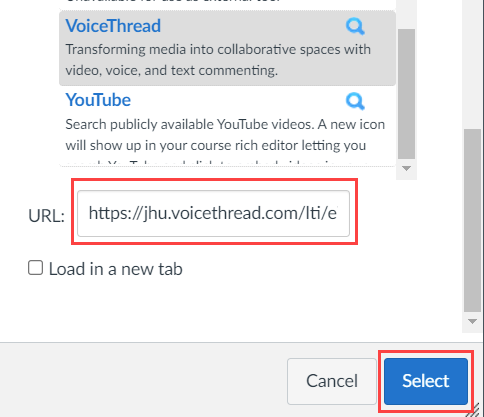 Finish updating the Assign Box and then Save the VoiceThread Assignment.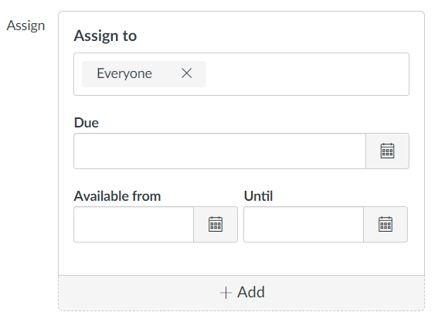 The final view should look like the image below (or some variation if additional instructions for the assignment are added) and will have a button to launch the assignment in a new tab.