Uploading Grades to SIS from Canvas 
Canvas does not automatically upload grades to SIS. Below are the instructions for uploading grades to SIS. This will change beginning with the FA22 term and new instructions will be shared at a later date.
Step One: Download Your Roster as an Excel Document
Log into SIS and download the Course Roster.
You will download your course roster in the Excel format.
To download your roster, use the links in the Action region.

Note: You will only see the Upload Grade Spreadsheet link if the grading period if OPEN.
Step Two: Add Grades to the Excel Document
Manually add your grades to the SIS Course Roster that you downloaded and save.
Step Three: Upload Grades via Excel Document
Click the Grade via Excel Spreadsheet link in the Actions region.
The Populate Grades via Excel Spreadsheet Upload region appears. 

Click Browse button.
Navigate and select the SIS Course Roster Excel file on your computer then click the Open button.
The field beside the Browse button is updated with the path and the file name for your Excel document.  Click the Upload button.  A message appears indicating that the upload was successful.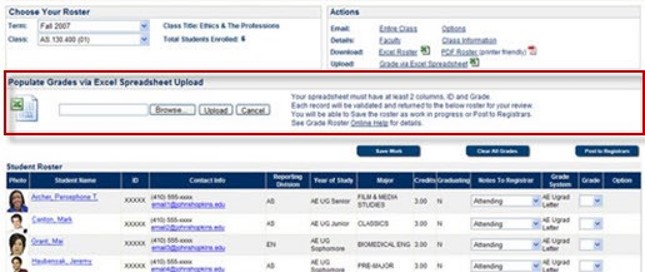 Update any invalid grades by selecting a value from the Grade drop-box.
Click Save Work to save your grades and continue grading.
Click Post to Registrars to submit final grades.
NOTE: You will NOT be able to change grades in SIS after you click Post to Registrars.