Zoom
Zoom is a collaboration tool that increases student participation and engagement in virtual and hybrid classrooms. Zoom includes video conferencing, application sharing, live polling, chat, whiteboards, and presentations.
Using Zoom, you and other attendees can join a live, online session from anywhere in the world, as long as you have a browser and an Internet connection. A meeting can have as few as two or as many as several hundred attendees.  Sessions can also be recorded for future viewing.
How It's Used
Zoom can be used for online office hours, review sessions, guest speakers, and student presentations. It can also be used for one-on-one tutoring, advising, career counseling, and mentoring.
How do I get a Zoom Account?
AAP faculty will be sent a Zoom invite to their JHEDID@jhu.edu email prior to the start of the term. AAP Instructors who have already been provided with a Zoom account will continue to use the same account. The accounts are active beyond the last day of classes and will be deactivate if you are not invloved in the next term. Students can obtain an account by going to https://jhubluejays.zoom.us and logging in with their JHED credentials.
Zoom Resources
If you are not familiar with Zoom, or if you need information on how to download Zoom, please refer to JHU IT's Zoom Support page. The JHU IT's Zoom Support Page has quick tutorials on setting up audio, recording a meeting, and use of basic Zoom functions, etc.
To add security measures that prevent unwanted intruders review this blog post or this video from Zoom.
If you are interested in recording your Zoom sessions review the Guidelines for Recording with Zoom document.
For more tips, review the AAP Instructor Zoom Tips and Resources document.
Adding Zoom to your Course
You are going to add a link to your Zoom Personal Meeting Room to your course.  Please refer to the Zoom support page for information on obtaining your Personal Link (URL). You will need this URL to add the Zoom meeting room to your course.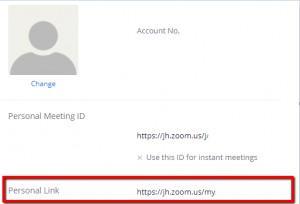 Copy your Personal Link URL from Zoom.

Enter your Blackboard course.

Click on the "plus" button at the top of your course navigation menu.

Select the

Web Link

option.
You will be given the prompt to name the link and put enter a URL.
Enter Zoom Meeting Room in the "Name" field.

Enter your Zoom personal meeting room URL in the "URL" field.

Check the

Available to Users

box.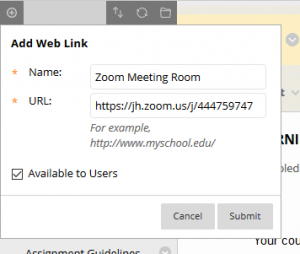 The link will appear at the bottom of the course navigation menu. You can reorganize the link within the course navigation menu.
Finally, click on the chevron (the gray down arrow) and set the Zoom Meeting Room link to Set Link to Open in a New Window.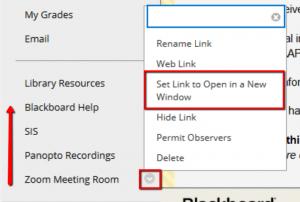 Now you can direct your students to the Zoom Meeting Room link in the course navigation menu when needed. If you are teaching a fully online course, any synchronous meetings should be recorded and the recording should be shared in the course for students who were not able to attend the synchronous meeting. The IRC requires that recordings of the synchronous sessions made available to students who could not attend. In addition, if you are using Zoom to record a guest lecturer and this recording is to be used again in future terms of the course, the recording must be saved in Panopto.  Please take this short lesson to understand how you are supposed to save your recording depending on its intended use. If you need your course provisioned for Panopto, please reach out to our Multimedia Specialist Here. If you need training on Panopto, please reach out to our Technical Trainers Here.